Code Like a Pro!
This is no longer supported. We only support Microsoft MakeCode.
The BrainPad gives you the option to code in C# or Visual Basic through a truly professional development environment: Microsoft Visual Studio. These modern .NET languages are used by millions of developers to create applications for smart phones, tablets and even computers.
Debugging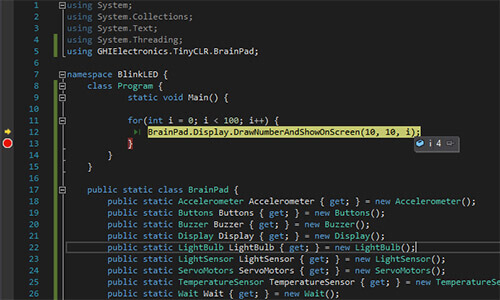 When writing full applications with hundreds or thousands of lines of code, debugging becomes a requirement. This is where you can step through code, set breakpoints and inspect variables. Complete set of debugging capabilities are available on the BrainPad.
TinyCLR OS

The magic behind the scene happens though GHI Electronics TinyCLR OS. It is what allows the BrainPad to execute C# and Visual Basic through Visual Studio. You can learn more about TinyCLR OS on the GHI Electronics website.
---
Docs
Now that you are ready to take the BrainPad beyond its limits, check out the BrainPad Documentation.