Are you ready to upgrade to the BrainPad?
Even for engineers, it's difficult to keep up with the rapid pace of technological change. With all of the responsibilities that come with being an educator, it's even more difficult to keep up. Here's our take on some of the most popular STEM educational tools.
---

Arduino
Arduino is a fantastic idea that originated in 2005 at the Interaction Design Institute Ivrea, a graduate design program in Ivrea, Italy. It remains one of the most popular single board microcontrollers and is used by students, hobbyists, and professionals the world over.
Unfortunately, Arduinos only provide the controller with no added input or output devices. Many Arduino users have told us how much they love the display built into the BrainPad, as well as the other integrated devices.
While the Arduino itself is low cost, the price advantage disappears after adding the necessary input and output devices. The BrainPad can be used out of the box with no additional hardware.
---

Scratch
Scratch provides the ability to code by dragging and dropping blocks of code on a computer screen has made it much easier for beginners to start learning programming. The objection we've had with most block coding platforms is that they are too detached from the methods used by professional programmers.
Microsoft MakeCode provides students with the text equivalent of the block programs they create. Even if they are too young to understand text based programming, just seeing the text version of their program increases their understanding and will make it easier for those students to transition to text based programming in the future.
---

Raspberry Pi
Arguably, the Raspberry Pi is best mini computer on the market, the Raspberry Pi has become a very popular way to learn basic computer science. You can plug in an HDMI monitor, keyboard, and power supply to make the lowest possible cost desktop PC.
There are also kits to turn the Raspberry Pi into a more capable computer, but either way the total system cost increases beyond what is practical for a classroom of students.
The BrainPad does not have an HDMI port and is not suited for video streaming, but it works out of the box with its built-in display and no additional hardware. It can be used to control robots, learn coding, and learn about electronics while costing less than a text book.
---

Lego kits, including MindStorm
The Lego kits are high quality, but also very expensive. You can equip and entire classroom with BrainPads for the same price as a couple of the premium Lego kits. And while the Lego kits focus primarily on robotics, the BrainPad can be used for coding, game programming, robotics, electronics, and more!
Also, building robots and devices from scratch out of available materials fosters creativity in a way that building a kit can never do, encouraging students to creatively solve problems rather than just follow instructions.
---

micro:bit
One of the top ranking options for coding, micro:bit is a very small computer board with a great ecosystem. It does offer some sensors, buttons and LEDs, and is an easy choice for beginners. However, the few LEDs on the front can only display a single, hard to read character. Also, those LEDs share the edge connector pins, where accessories are added, limiting the expansion possibilities. The processor it uses is very limited in both power and memory. Despite this, the micro:bit is one of the best inexpensive coding platforms available.
In contrast, BrainPad has a full color screen. The edge connector pads are completely available for any additional hardware and the processor is powerful and has a lot of memory.
---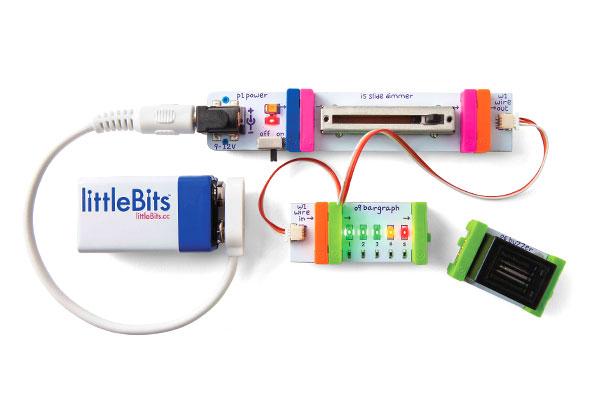 littleBits
littleBits is a hands-on learning system of electronic building blocks that allows students to snap-together modules to help learn basic circuitry concepts. Beyond circuits, the platform is limited with what can be done for robotics and game development. The cost for individual pieces adds up quickly and the small pieces can get lost or stolen.
The BrainPad teaches robotic, games and electronics and scales with its advanced processor and colorful display. Low-cost accessories to build/teach robotics and electronics are available from many sources globally giving you an unlimited about of options.
---

Other, so called, STEM products!
We are deeply disappointed by companies labeling every toy as a STEM or STEAM product! STEM requires an evolving platform, not a toy. A "remote controlled ball" is not STEM, a "USB wired robot" Is not STEM. Crafts are not STEM. Do a search for STEM on Amazon and you'll see what we mean. We view STEM differently.
The right tool is the tool that best helps train the future workforce of creative minds needed to build things like self-driving cars and connected cities. It also must be affordable by parents and budget restricted public schools, not a product made only for the elite. The BrainPad levels the playing field for students of all ages, abilities, and income levels.
---

Meet the BrainPad!
The low cost inclusive option made by technology experts who design products and code for a living. We know exactly what it takes to turn students into professional programmers and engineers as it's the road we've travelled ourselves.
The BrainPad is not a one sided toy that will quickly get boring and sit in a closet. The BrainPad can be used by people of all ages and skill levels in ways limited only by the imagination. While not every student will have a future as a programmer or engineer, technical knowledge is becoming necessary in every profession. You can start today without risk by using the free online simulator. What are you waiting for?