BrainBot includes everything needed get you started on coding robots. It works hand in hand with the lesson plans and give users options, from newbies to experts. Minor assembly is required.
Features
Line detector for following lines and detecting boundaries.
Distance sensor for object detection.
Color headlight LEDs.
2x individually controlled body LEDs.
Buzzer for generating sounds.
Infrared receiver for the remote control.
Kit Content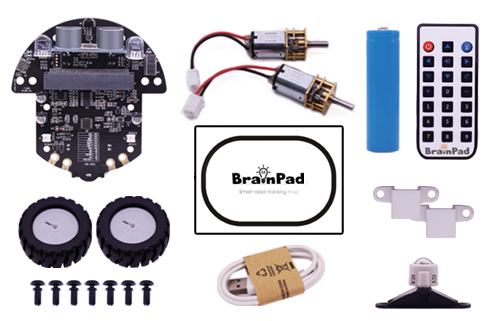 Robot chassis
2x Motors
2x Motor mounts
2x Wheels
8x Rivets
Front caster wheel
Rechargeable battery
Remote control (battery included)
Line Map
USB cable
Reusable case
BrainPad Compatibility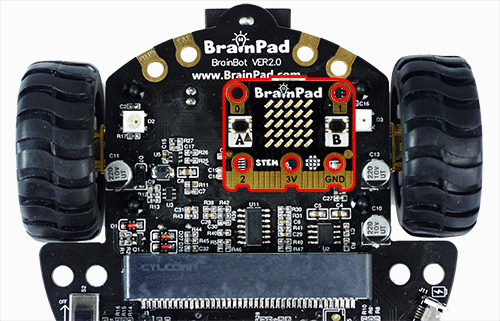 All features work perfectly with BrainPad Pulse, which is the recommended option. However, the BrainPad Tick works as well except for the infrared receiver. When plugging in the BrainPad Tick, make sure it is plugged in all the way to the right side as shown in the image.
---
Baby's First Steps!
These lesson plans are the first steps needed to give the robot its first steps.
---
Ordering Info
| Name | Part Number | Price |
| --- | --- | --- |
| BrainBot Kit | BPK-BOT-2 | $49.95 |