Welcome to the cutest STEM board ever made, but you will be surprised to see what this little board can do! First of all, the BrainPad Tick uses the same processor as the BrainPad Pulse. Both boards are identical when it comes to speed and available resources. With 2 buttons and 25 bright LEDs it is ready to be used out-of-the-box. Additionally, the board has connections for connection things through alligator clips. Making the BrainClip an excellent option for learning physical computing.
Features
25x Orange LED lights.
2x buttons.
Edge connector with alligator clip holes and socket pins.
Expandability
The shape of the edge gives the BrainPad options for maximum connectivity. The larger pads with holes can be connected too, using alligator clips. The smaller pads between the larger pads are also fully available and not shared with anything else internally inside the BrainPad. Those are available for all of the available accessories on the market. We also offer our own kits that are well documented and supported.
Full-size Compatibility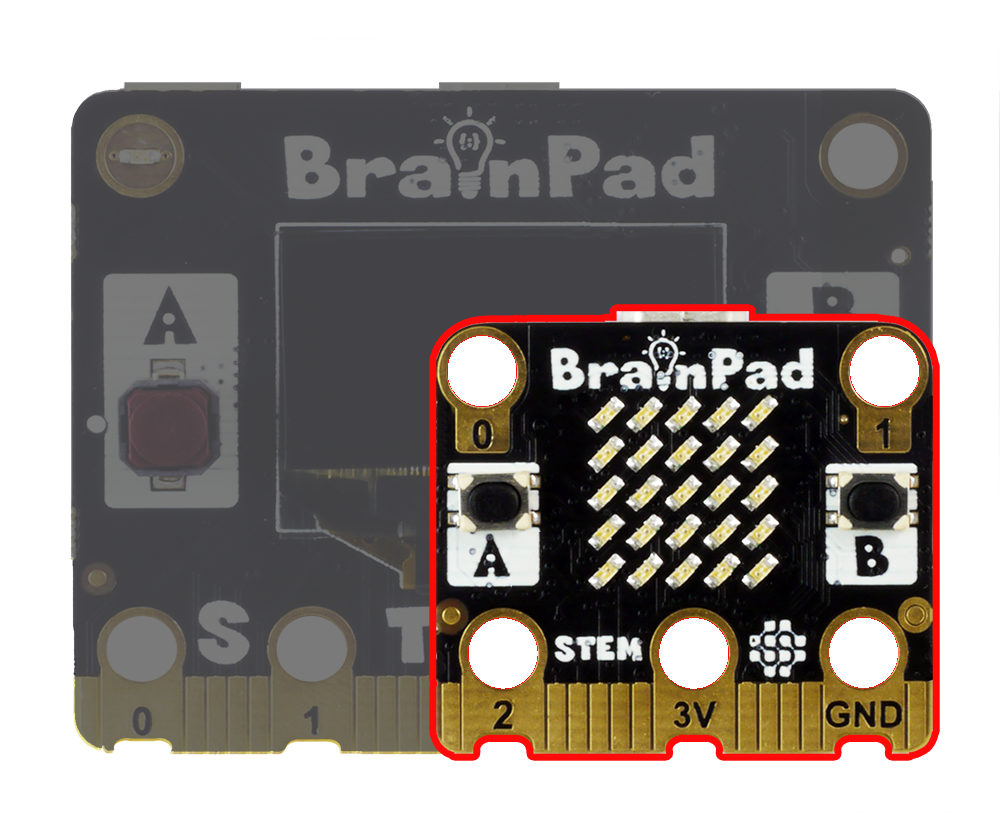 The edge pads are on the BrainPad Tick are compatible with the full-sized BrainPad Pulse. It simply the right half of the full size edge, keeping in P2, 3V and GND pads. The P0 and P1 pads are moved to the top.
The smaller edge-connector pads are also available and include I2C and other signals as well. All pads starting P12 and up are available on the edge.
Pinout
Make it your way!
Let your inner artist out and give your BrainPad any shape you like, using carboard, wood, acrylic or even 3D print one.! We provide you with a 2D template and 3D model to get you started.
---
Getting Started
These lesson plans are the first steps towards coding the BrainPad.
---
Ordering Info
| Name | Part Number | Price |
| --- | --- | --- |
| BrainPad Tick | BPC-TICK-C | $14.95 |
---
Made in USA
We are proud to bring you engineering, support for the BrainPad from Michigan, USA. We even run production right from our headquarters in Michigan, USA.