The BrainPad Pulse STEMS (pun intended) from the need for an evolving coding board. With its beautiful graphical display and 2x soft buttons, the BrainPad Pulse is ready to be used out-of-the-box, as is or with one of our official BrainPad accessories.
Features
MakeCode / Python / C# coding options
Graphical 128×64 B&W display
2x buttons
Accelerometer sensor
Temperature sensor
Buzzer
Power indicator LED light
Power/battery connector
Edge connector for expandability
Includes USB Cable
Includes Carrying Case
---
Graphical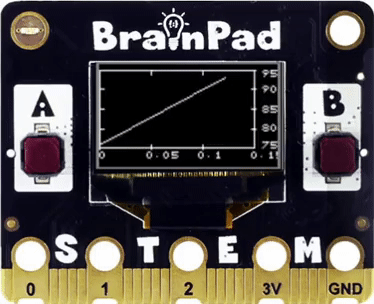 BrainPad Pulse has a 128×64 B&W graphical display that can be used for showing text, graphing sensor data as well as creating video games!
Graphing sensor data
Arcade-inspired games
Text visuals
Expandable
The shape of the edge gives the BrainPad Pulse options for maximum connectivity.
Edge connector
Alligator clip option
---
Coding Options
BrainPad Pulse is designed with multiple coding options, covering users from simple beginner to professional grade.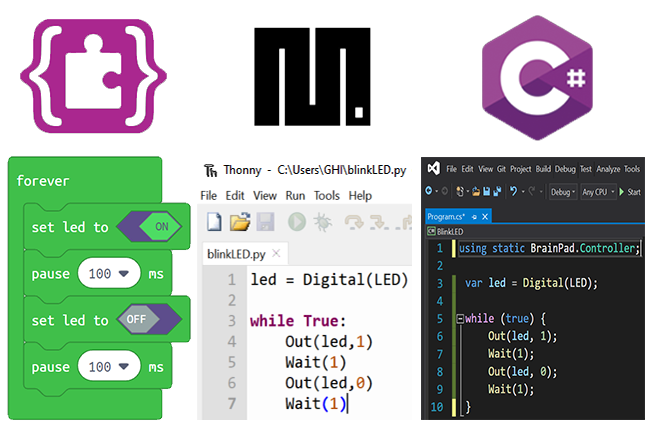 MakeCode is an easy no-install-needed option with blocks, JavaScript and Python coding.
Python is supported through Thonny IDE, which can be used for both coding Python on a PC and on BrainPad Pulse.
.NET C# is a professional-grade coding option that works with Microsoft Visual Studio.
Feature/Language
MakeCode
MicroPython
.NET C#
Compatible Devices
Modern Browser on
Window, Mac or Chromebook
Windows or Mac
Windows machine only
Level
Very Easy
Advanced
Advanced
Age
Middle school to Highschool
Highschool to college
Highschool to college
Required Software
Online
Thonny
Microsoft Visual Studio
Code Assist
Yes
No
Yes
Debugging
In simulator only
No
Yes
Best for
All levels
Intermediate
Advanced
---
Start now, no hardware necessary!
Online Simulator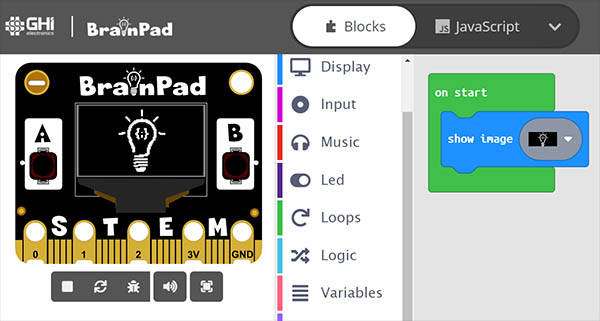 A try-before-you-buy can happen now with the available MakeCode online simulator. So, what are you waiting for? Give it a go and start coding now!
Free eBook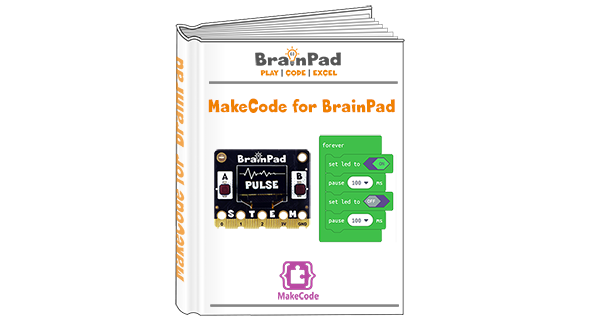 Our MakeCode for BrainPad guide takes the user on a journey, starting with the simulator to the actual hardware. Also learn how to expand with some of our official BrainPad accessory kits.
---
Elevated Experience

BrainPad Pulse utilizes the commonly used edge-connector found on many products. It elevates the user with new visuals and coding options. Official BrainPad accessories work hand-in-hand and guarantee a positive experience.
---
Ordering Info
| Name | Part Number | Price |
| --- | --- | --- |
| BrainPad Pulse | BPC-PULSE-D | $39.95 |